Blog
Green Vision Life Sciences at #WAE2020​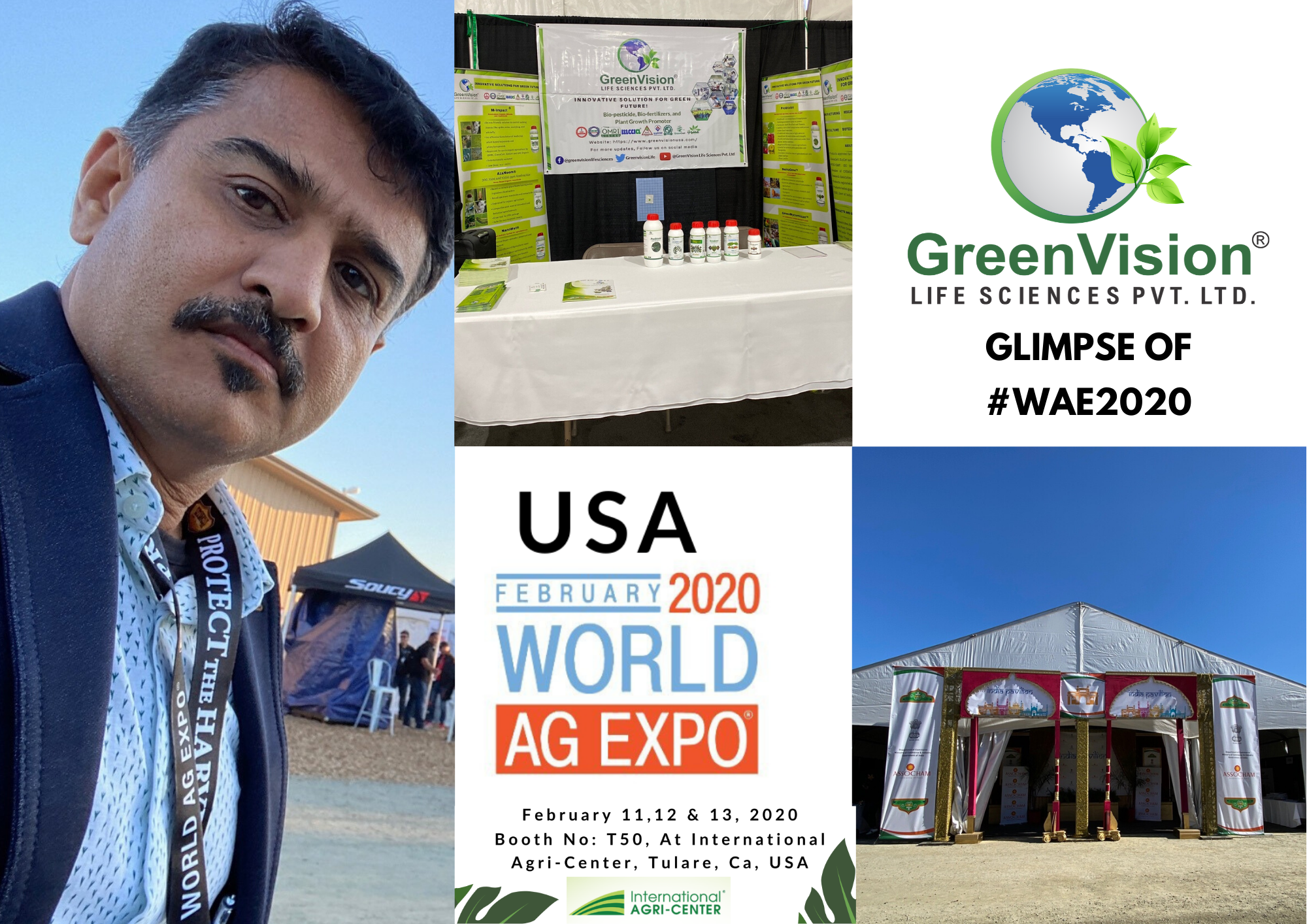 Finally, on February 13th, 2020, World AG Expo 2020 in Tulare at the International Agri-Center came to an end on a very good note. For #WAE20 almost 100,000 visitors had congregated in these three days annual staple event.
The World AG Expo was hosted for the farmers, Ag companies, and for the one who passionately wants to know and explore more about the future of agriculture. International Agri Centre has encountered many students, farmers, agronomist, dairymen, locals, tourist and other gathered for this Ag event. For this annual exposition more than 1400 exhibitors participated. This was the brilliant platform with the most active transactions for trade exchange and cooperation platform integrating pesticides, fertilizers, seeds, non-agricultural drugs, production and packaging equipment, plant protection equipment, logistics, consulting, laboratories and supporting services.
#WAE20, an International Exhibition on Agriculture which covers all the major and minor aspects of Agricultural Industry. It has been well liked and approved globally because not only the big stake holders take part in it but also the farmers from all over the world visited and participated on this International event. It also offers networking scope with many groups like dignified agriculture bureaucrat to recognize and explore business opportunities potentials as well as investment scope globally.
Green Vision Life Sciences Pvt. Ltd also participated in 2020 World Ag Expo and marked its outstanding presence. Green Vision is a pioneer in the development of innovative solutions for agriculture, environment, biotechnology, and specialty chemicals. Green Vision showcased its seven acknowledged products in this event:
M-Impact: Knockdown Organic Miticite and Insecticide
GV-aTTrap: Pheromone sticky trap to manage outbreak of Thrips
AzaNeem: Neem Based Organic Insecticide
NanoWet: Organic surfactant with Smart Delivery System for Agricultural sprays
Horti-Impact: Knockdown Insecticide & Miticide for Vegetable and Fruit Crops
NemaGone: Ecofriendly Solution for Nematode Management
Green-Mycorrhizae: Mycorrhizae Based Biofertilizer
Dr. Satilal Patil, the Managing Director of GreenVision Life Sciences Pvt. Ltd, explained the purpose and use of the organic product for agricultural benefit. He also explained importance of organic inputs for chemical free food production.
He also added information regarding ITM program for integrated thrips management. ITM is all about managing the outbreak of thrips using tools like sticky traps, pheromone traps, entomopathogenic fungi and botanical pesticides.
This year's World Ag Expo procure and pulled down people from all over the world, as it is managing from continuous 53 consecutive year, to take in the recent development and advancements in the agriculture industry. With such great things to explore, it was nearly endurable to take in glance of the entire event in just three day. With continuous year ahead up to the time upcoming World Ag Expo, it should be fascinating to have glimpse of what are the recent advance innovations initiated and executed into the industry.
Related Post
बुरशीनाशक कसे वापरावे ?
Aug 30, 2023
बुरशीच्या रोगांमुळे दरवर्षी पिकांचे भरपूर नुकसान होते. त्यासाठी आपण वेगवेगळ्या प्रकारचे बुरशीनाशके वापरतो. ही बुरशीनाशके कशी वापरावी याबाबतीत आज माहिती घेऊया.